May was a rough month, not gonna lie. I was skint for the majority of the month and we laid my Grandad to rest, a day I always dreaded. I let things get on top of me and I didn't post as much to my blog as I would have liked. Despite these things, I do have some good experiences to write about this month.
First of all I wrestled my first match in front of an audience for the first time since breaking my wrist three years ago. Sadly, I don't have any pictures of me in the ring as we didn't have a photographer that night, so you'll have to make do with this group picture of the RWA women's division which was taken backstage on the night.
RWA Women's division L-R: Nicola Hyde, me, Naeva, Roxie Nolan, Dionne Maxim, Lucy Sky, Alexxis Falcon
I participated in a tag team match alongside my brother from another mother Hollie, aka Naeva. I'm still fairly limited in the ring so the match was kept simple, but we managed to get over and, for the first time ever, I picked up a pin fall victory. It only took me ten years, it's fine. This match, despite me not being amazing technically in it, really reignited my passion for actually physically wrestling, and I feel like I've been pushing myself harder in training ever since.
Speaking of training, I was also lucky enough to be able to sit under the learning tree of Dr Tom Prichard this month. The man just has a way of being able to inspire people and making them believe that they are capable of absolutely anything. I was also incredibly fortunate to be involved in what is potentially one of Dr Tom's final matches, which was a lot of fun. I have been incredibly lucky to have the opportunity to work with and be educated by Dr Tom, and I'll never forget it.
RWA women's divison with Dr Tom Prichard and LC Lunar.
For my wrestling match I bought a silver faux leather jacket to wear to the ring and I'm absolutely in love with it. I'm a sucker for all things metallic silver at the minute (I also have a skirt in a similar material). It's the jacket that I'm wearing in the group photo at the top of the post. It looks like New Look have sold out of it on the website, although the have a similar jacket in their Curves range, which you can find
here
, and other sizes are available on
ASOS
and
Zalando.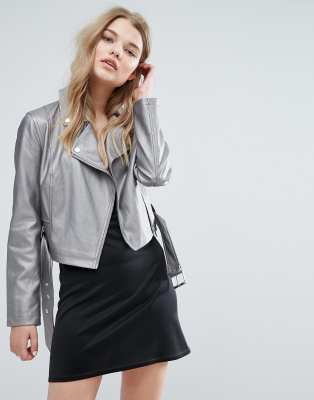 Source: ASOS
Lastly I'm going to give a special shout out to the sun for hanging around the past couple of weeks! I'm very much a Winter lover and don't really care too much for the Summer, but the good weather has done well to lift my mood this month and I actually went out with my friend Gemma last week with no other reason than to enjoy the warmth, which is somewhat out of character for me! The only disappointing factor is that where I live didn't get the thunderstorms that the weatherman promised. Hmph.
And those were my favourite things about the month! How was your May?
Stacey Rose xx